Start KILL COPY

-->

End KILL COPY info

Start Widget sidebar info

End Widget sidebar info

Start Whatsapp sidebar info

End Whatsapp sidebar info

Start Cookie info

End Cookie info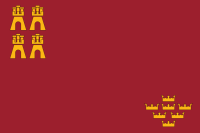 The Region of Murcia is bordered by Andalusia (the provinces of Almería and Granada); Castile–La Mancha (the province of Albacete, which was historically connected to Murcia until 1980); the Valencian Community (province of Alicante); and the Mediterranean Sea. The community measures 11,313 km² and has a population of 1.4 million, of whom one third live in the capital. The highest mountain is Los Obispos (2,015 m).
The region is a major producer of fruits, vegetables, and flowers for the rest of Spain and Europe. Wineries have developed near the towns of Bullas, Yecla, and Jumilla, as well as olive oil near Moratalla. Murcia is mainly a warm region which has made it very suitable for agriculture. However the precipitation level is low and water supply is a hot subject today since, in addition to the traditional water demand for crops, there is now also a demand of water for the booming tourist developments. Water is supplied by the Segura River and, since the 1970s, by the Tajo transvasement, a major civil engineering project which, under some environmental and sustainability restraints, brings water from the Tajo into the Segura.

Flag and Coat of arms of the Region of Murcia​​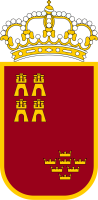 Despite the famous seaside resorts on the Mar Menor the overall region is relatively unknown even within Spain, so it continues to be relatively unspoilt compared to other more overcrowded areas of the Spanish Mediterranean coast. Nevertheless, its more than 300 sunny days a year with an average temperature of 21 degrees Celsius, and the 250 km of beaches of the so-called Costa Cálida (Warm Coast) have attracted tourists for decades.